Öppna ett Webmoney konto
Det är enkelt att öppna ett konto med WebMoney om du inte redan har ett. Bara klicka denna länk för att öppna ett.
När du har registrerat och laddat ditt Webmoney konto, kommer du direkt kunna göra en inästtning till ditt SlotsMagic konto och börja spela direkt!
If you need additional help, click here to access the Help Desk page on their website.
För tekniksupport via e-post vänligen skicka ett brev till våra kundsupport [email protected].
You can also contact the WebMoney technical support call center. You can find this on their Contact page on their site.
Se nedan för en lista på deras internationella telefonnummer:
+7 (495) 727-43-33 – Moscow.

+7 (812) 336-43-18 – St. Petersburg.

+1 (212) 202-66-06 – United States.

+44(203) 239-60-39 -UK.
Instruktioner
Start by going to //www.wmtransfer.com and select your desired language from the top right hand corner. Once you are ready press the "Sign Up Now" button.

Det är 4 steg i att öppna ett WebMoney konto, det första steget är att fylla i och konfirmera din personliga information.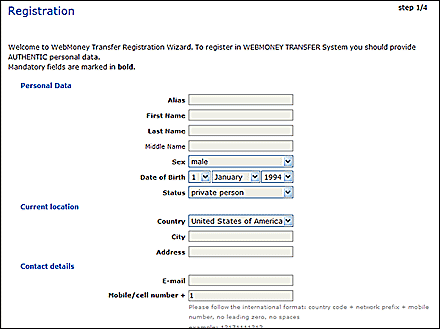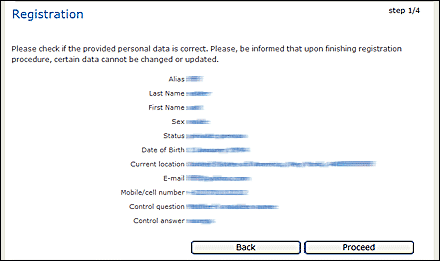 Vänligen notera att all information behöver vara ifylld för att kunna gå vidare.
Nästa steg är att skriva in den kod som vart skickad till dig via e-post. E-brevet skickades till den e-post adress som du fyllde i under personlig data. När koden är verifierad skickas du till sidan för mobiltelefon verifikation.

Denna sida innehåller instruktioner för att sända ett SMS från din mobiltelefon som verifikation. Vänligen vänta för verifikationen att hanteras.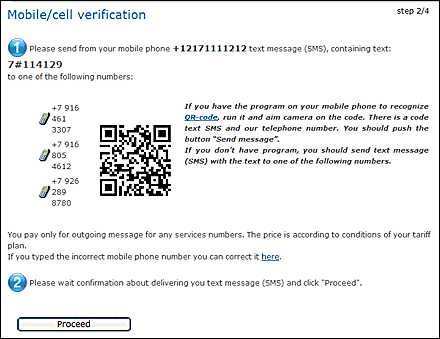 När ditt SMS har blivit mottaget kommer dom att skicka ett verifikations meddelande.
När du mottagit konfirmationen, vänligen klicka på "Proceed" för att skapa dit konto och avsluta registrerings processen.