Öppning utav ett Moneybookers konto
Moneybookers är en snabb och pålitlig online plånbok. Spelaren kan öppna ett konto och ladda det med pengar via banköverföring och eller kredit kort.
Vi rekommenderar Moneybookers som en av SlotsMagic spelares vall för pålitliga och trovärdiga online betalningar. Den är direkt så att du kan utmana dina vänner på ett spel hos SlotsMagic inom några minuter.
It is very easy to open an account with Moneybookers. Just click this link to open one and select "Sign up now".
Vänligen notera att sidan finns i olika språk.
For English please select this link.
For Greek please select this link.
We have created a step by step guide to open a Moneybookers account if you need the extra help. Please click here.
När du har registrerat och fyllt på ditt Moneybookers konto. Kommer du direkt att kunna göra insättningar till ditt SlotsMagic.com konto och börja spela direkt.
If you need help with depositing then you can access their FAQ's (Frequently Asked Questions) and then select "Deposit".
Moneybookers har en Kundsupport Call Center: +44 870 383 0232
Dom har även en online meddelande tjänst vilket kan vara till stor nytta.
Minimum insättnings beloppet för insättningar med Moneybookers är $20, och för uttag: finns det inga restriktioner på summan!
När du använder Moneybookers för insättning eller uttag på vårt Casino, är det inga avgifter.
Instruktioner
Det tar endast fyra väldigt enkla steg att öppna ett konto med moneybokers. Starta genom att gå till www.moneybookers.com/app/ och välj Sign Up Now (Skapa ett konto nu!)
Konto typ
E-post verifikation
Personal details
Konfirmation
Moneybookers kräver följande information för att verifiera din identitet.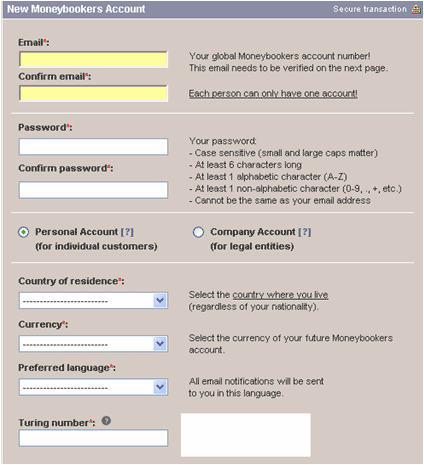 När du fullständigt fyllt i denna sida skickas ett verifikations e-brev med en länk till din e-post adress.
Kontrollera din e-post och enkelt klicka på länken för att verifiera din e-post adress och fortsätta registreringsprocessen.
Här näst fyller du i dina personliga detaljer.
När du har fyllt i dina personliga detaljer tryck på
Du vill sedan få en konfirmation på uppgifterna.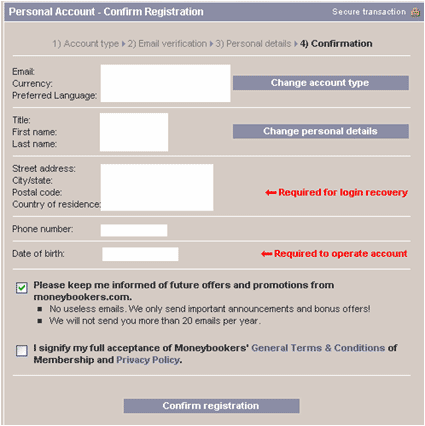 Klicka i boxen där du accepterar dom generella reglerna och villkoren. Avsluta sedan genom att trycka på "Confirm Regitration". Nu har du avslutat registreringen och öppnat ditt moneybookers konto.